Exemple
With the Watt controller jou can



Electrical heater at 3 ampere

You want to heat with your electrical heater of 1000 / 2000 watts and you have 3 ampere to your disposal.

In the chart "Electrical devices Ampere" you see that the electrical heater can be used at 3 ampere on position 1, 1000 watts.

Put the plug of your electrical heater in the socket of the Watt controller.

Check if the light of the Watt controller burns on position 3.

Then switch on the switch of your electrical heater (no halogen heater or ceramic heater)



Boiling water at 4 ampere

You want to boil water with your electric water cooker of 2000 watts and you have 4 ampere at your disposal.

In the chart "Electrical devices Ampere" you see that the electrical water cooker can be used at 4 ampere.

Put the plug of your water boiler in the socket of the Watt controller.

Check if the switch on the Watt controller is on position .

Then switch your water boiler on

Philips airfryer at 6 amperes

When Philips airfryer is connected to the Watt controller 6 A flicker the lights and the fan runs at half speed. Philips airfryer is basically a convection oven. It takes quite a long time until it reaches a temperature of 180 or 200 degrees. When it reaches its temperature, the orange light is off, the green (indicating that it is running) remains without flickering lights and the fan going full force until the orange light to go back because the temperature has dropped.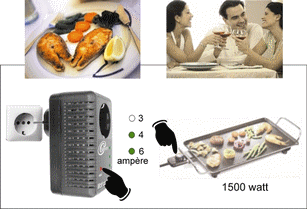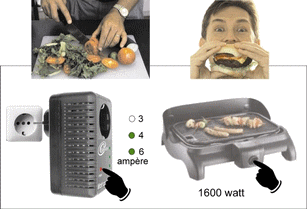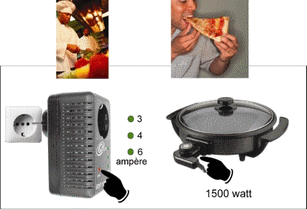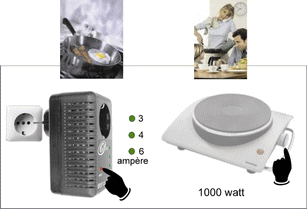 | | |
| --- | --- |
| fry pizza | fry eggs with a hot plate |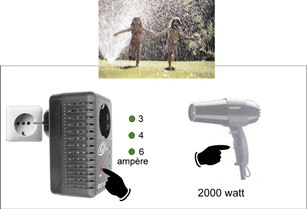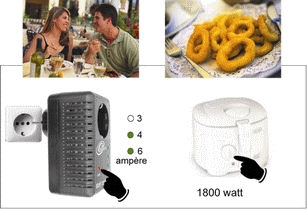 | | |
| --- | --- |
| Using your hairdryer | fryer |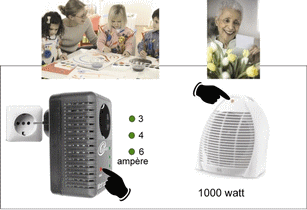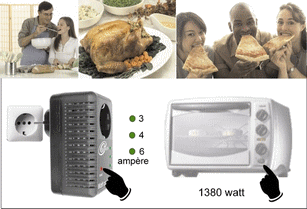 | | |
| --- | --- |
| electric heater | delicious pizza or fried chicken |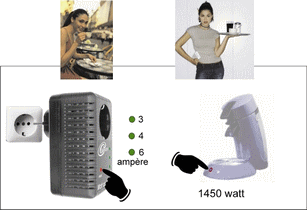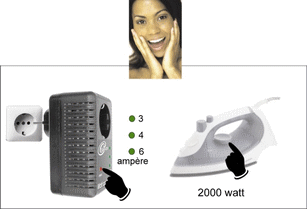 | | |
| --- | --- |
| delicious coffee with pad | iron |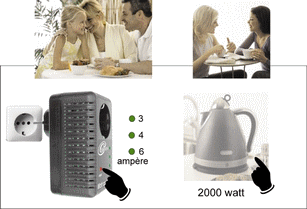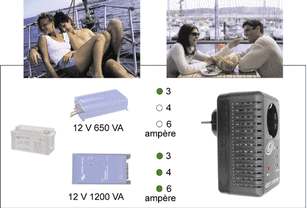 | | |
| --- | --- |
| heat water | supplemenetary comfort on the yacht of camper |