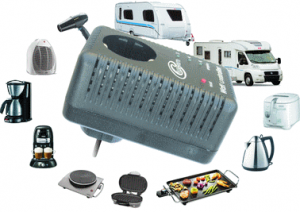 Take advantage of the Watt controller and earn the purchase back in a few years.
With the Watt controller you already have enough power at 3 ampere.

No more special small electrical appliances for the campsite.

Bring them from home to 2000 watts and the stops will not stop.

For lovers of Senseo the same cup of coffee at the campsite as at home (already at 3 ampere).

Do not buy an ampere for € 2, – € 9, – per day: 4 ampere is sufficient.

Save on weight and gas (filling € 14.75 to € 26.50 depending on the type of gas cylinder) take your electric grill or gourmet plate with you.

Fry your own fries or snacks with your familiar chip pan.




Oven dishes from the hot air oven of the LIDL (1380 watt).

Baking pizza in the electric pizza pan from Kochmann (1500 watt).

Do you have 6 ampere at the campsite: watt controller at 4 amps: turn on your water heater and all electrical appliances can be used.

Note: Senseo (7810 series) from digit code 04XXX XX (see bottom Senseo) works on the Watt controller. Air conditioning, microwave and induction cooker do not work on the watt controller (see link manual).
© Camparo 2005 / 2023