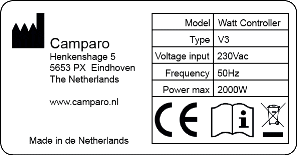 Specifications:
The Watt Controller meets the requirements of the CE standard:
EN55014-1, EN60730-1, EN61000-3-2,
EN61000-3-3, IEC60844-1, IEC60844-2-5.
Protection class against moisture: IPx0 and grounding: IPx1.

The Watt controller is protected against high temperatures and to high power.
Only small domestic devices may be connected to the Watt controller.
The input is 230 Volt / 50Hz (not suitable for 60Hz).
The maximal input value is 2000 watt.
Warranty:
The warranty period is 2 years